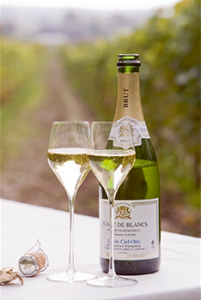 You may not associate the climate of Sweden with winegrowing but in this northerly part of Europe in the county of Skåne, a number of vineyards have grown up since the turn of the millennium. The changing climate is working in favour of growing vines here but the climate is still far from ideal and makes winemaking a risky business. Nevertheless, with the right types of grapes and a lot of enthusiasm, wines of character with a distinct acidic taste can be made.
In Österlen, there are a growing number of vineyards but the one that receives the most visitors is Köpingsberg, east of Ystad. Köpingsberg's speciality is sparkling wines including the Swedish equivalent to champagne called Köpingsberg Blanc de Blancs Vintage. This sparkling white wine made from Swedish grapes is aged for four years. When each precious batch of wine is released after four years, it usually sells out within minutes. That's what happened when about 1,000 bottles went on sale in November 2014 at a price of about SEK 400 per bottle.
The wine is released through local Österlen branches of the Swedish state-owned chain of off-licences known as Systembolaget. They have a monopoly on sales in Sweden of wine, spirits and beers of a certain strength. Traditionally Sweden has had a strong temperance lobby for restrictions on the sale of alcohol. Indeed, from 1982–2000, the nationwide branches of Systembolaget were closed on both Saturdays and Sundays. Now they open on Saturdays but remain closed on Sundays.
Sweden's strict rules mean that winemakers like Carl-Otto Ottergren of Köpingsberg cannot sell their own wine on their premises. "The rules are a bit crazy," says Carl-Otto Ottergren. "If I could sell my wine direct to customers, I would keep my vineyard open for visitors much longer. But with the rules as they are, it just doesn't pay."  Visitors can pay for wine-tasting at Köpingsberg but they cannot buy the wine and take it home. For that, they have to travel to the local branch of Systembolaget in Ystad, Tomelilla or Simrishamn or order the wine from another branch in Skåne.
Currently the winery is open for drop-in visitors on certain afternoons in July and August. At other times, visits can be booked in advance by groups. Most of the visitors are Swedish but some groups come from abroad. With his command of English, German and French, Carl-Otto Ottergren is able to guide groups from different parts of Europe. Visitors are shown around a modern winery attached to the house at Köpingsberg dating from the 17th century.
Carl-Otto has strong connections with France where he runs a joint venture with a vineyard in Bourgogne. Under his supervision, two types of sparkling wines are made at the vineyard and sold under his label, namely Blanc de Blancs Cuvée Carl-Otto (100% Chardonnay grapes) and Cremant de Bourgogne Cuvée Carl-Otto (45% Chardonnay and 55% Pinot Noir).
Using the Champagne method to make wine is labour-intensive requiring not just one fermentation of the wine in a tank but a subsequent fermentation in the bottle. Carl-Otto Ottergren is a serious winemaker who makes his living from wine and has been planting vines (mainly Chardonnay) here in Österlen since 2005. The vineyard now has about 6,000 vines. The 2015 harvest is expected to yield 6,000 bottles of the sought-after sparkling wine Köpingsberg Blanc de Blancs Vintage. The wine will be aged for four years before the vintage from 2015 is released for sale. "Even some well known brands of champagne only age their wines for two years," Carl-Otto points out. "Our long ageing gives a rich taste."
The Österlen region is perhaps best known for its apples. Tasty apple juices and ciders are made here. But Österlen also has a few small vineyards. With no tradition of winemaking in Sweden, Carl-Otto Ostergren is one of the pioneers in these northern climes.
A selection of vineyards in Österlen receiving visitors
Köpingsberg Vineyard near Ystad between Nybrostrand och Glemmingebro. Started 2005. About 6,000 vines. www.kopingsberg.se
Ekesåkra Vineyard in Ekesåkra near Sandhammaren. Started 2002. About 2,000 vines. www.osterlenvin.se
Skepparp's Vineyard in Skepparp near Kiwik. Started 2010. About 4,000 bottles in 2014. www.skepparpsvingard.se
Skillinge Vineyard on the coast near Skillinge. Started 1998. About 2,000 vines.